Archive for April, 2015
Drillspec and Hardcore Benefits Presents: A Taste of Quebec
Welcome to Montreal!
Drillspec and HardCore Benefits welcome you to the Canadian Diamond Drilling Association's 72nd Annual General Meeting & Convention. 
Drillspec is t
he only business management tool designed for drilling profitability.  HardCore Benefits is proud to offer mining and drilling companies customized group benefit packages at economical rates.
Join us before the Gala on April 27th from 6:30-7:30 pm in the Delta Montreal Opus Room.  Come out and enjoy a selection from local microbreweries and wine from the area.  
You can learn more about Drillspec and HardCore by visiting our websites at www.drillspec.ca and www.hardcorebenefits.ca.
We look forward to seeing you!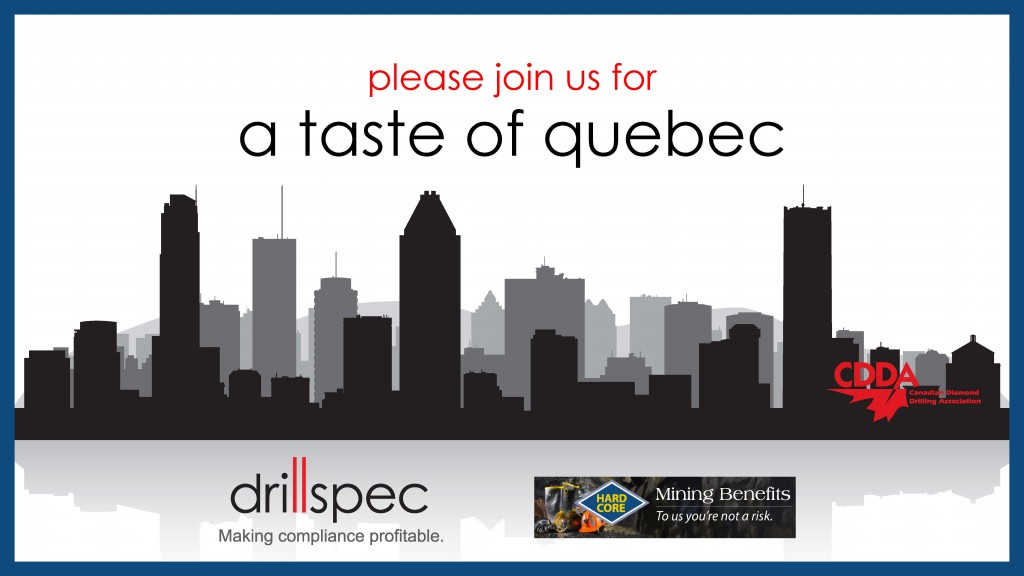 April 26th – 28th 2015
Meet the Drillpec team and learn about our product designed specifically for the Diamond Drilling Industry

Hotel: Delta, Montréal
Address: 475 Avenue du Président-Kennedy, Montréal, QC H3A 1J7
Drillspec will be attending the 72nd Annual General Meeting and Convention on April 26th -28th in Montreal, Quebec.
We would love to meet with you to discuss what Drillspec, the only business management tool designed for drilling profitability, can do for your company.
Please contact us to schedule a meeting and visit the Why Drillspec page to learn more.
If you need to contact us during the event, please call Scott Clark at 705-499-7341
For more information about the CDDA AGM visit: cdda.ca

Scott Clark
Drillspec
Co-Founder
scott@drillspec.ca

Thorsten Brost
Drillspec
Co-Founder
thorsten@drillspec.ca
We created Drillspec with DEC compliance in mind. Using our system is a simple way to help you become DEC compliant today! This short video includes 2 companies that support DEC and its positive impact. DEC consists of helping companies to develop an integrated health and safety, environmental and quality management system in the field.
For more information about DEC contact us, or visit the Canadian Diamond Drilling Association.